Back to School - Easy School Lunches & Calmer mornings!
Aug 12, 2023
Did the summer really go by that quickly? Hopefully you had some space for adventures big and small - maybe you were able to cross some things off your summer bucket list? Keep in mind that just because the seasons are changing and kids are going back to school doesn't mean you can't keep the fun going. There's still time for ice cream outings, or camp outs in the backyard!
In the US alone, about 50 million kids are getting ready to go back to school in grades K-8. With the beginning of a new academic year comes the frequent chaos of morning routines: packing lunches, rushing breakfast, and getting everyone out the door, hopefully with everything they need to tackle the day.
Honoring the extra pressure that this places on many parents, today's blog post is dedicated to tips and tricks to make the transition easier, including a bunch of ideas for easy and nutritious school lunches that your kids will actually want to eat. Check out the downloadable cheat sheets and menu planning templates that are the companion to this blog post HERE.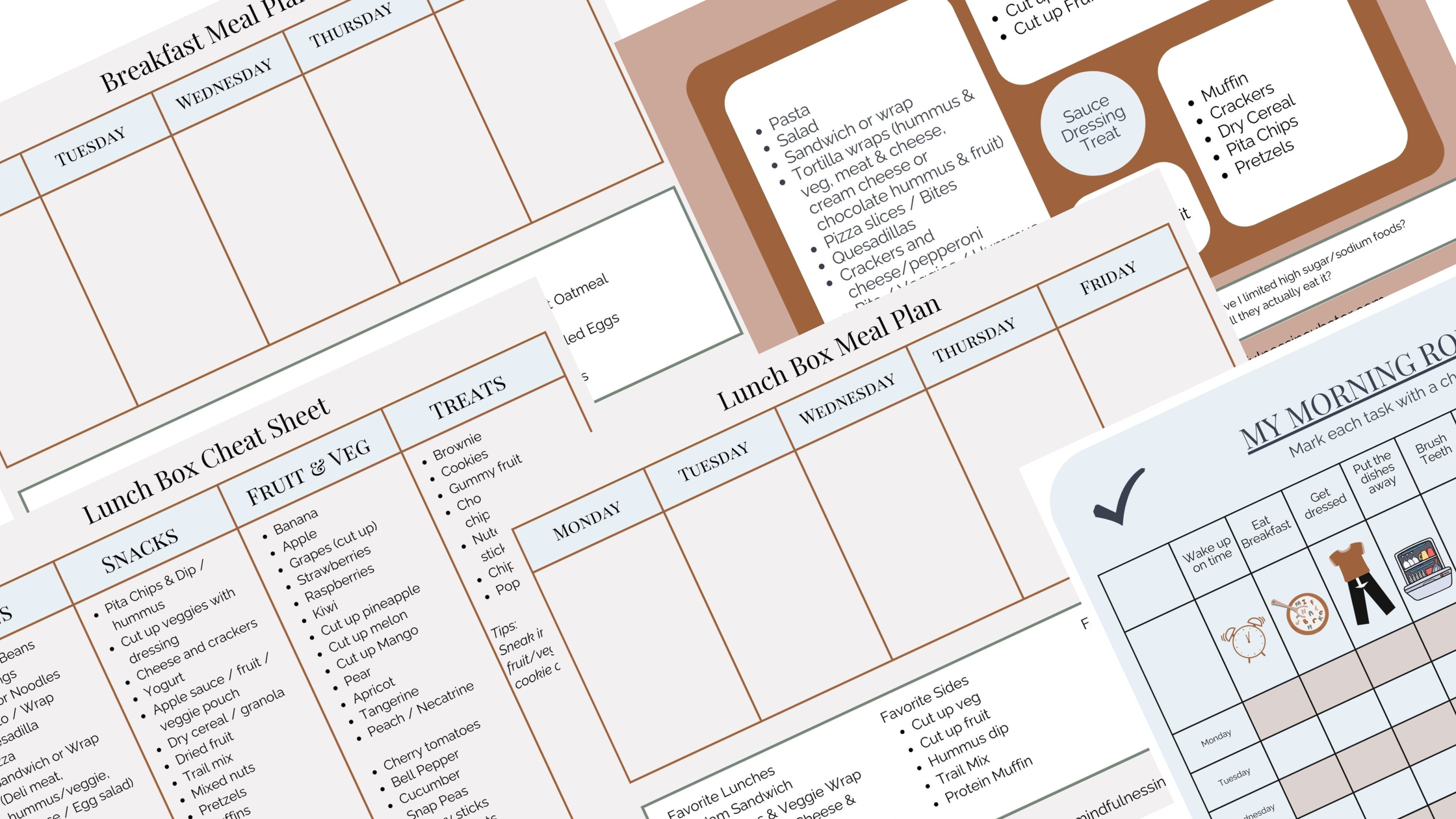 Five Tips for taking (some of) the chaos out of mornings
Here are our five favorite tried-and-tested tips for a smoother school day morning.
1. Let your kids own waking up
Use an age appropriate alarm clock to get your littles in the habit of waking up on their own when it's time. For small kids, an OK-to-wake alarm clock has the bonus of communicating to your kids that it's not yet time to get out of bed so you can reclaim some weekend sleep time.
2. Simplify Breakfasts
From the download, which you can get here
Creating a breakfast meal plan can help take the mental load out of mornings. This has the added bonus of knowing what you'll need for the week. Alternate between breakfasts that are quick to put together (toast, instant oatmeal, smoothies) and foods that can be batch cooked on mornings where you have a little extra energy (like making a batch of waffles that can be reheated, or a whole package of bacon). There are also some great items that can be made ahead on weekends, like breakfast burritos or breakfast muffins (pro tip, you can also order these pre-made frozen). Check out the download for some favorite ideas and a handy breakfast meal plan template.
3. Make it easy to pick out clothes each day
Picture credit - Amazon
There are some neat organizers with a spot for an outfit for each day of the week, like this one. Clean laundry can go straight into the designated slots, no thinking needed on a Monday morning. Alternatively, make it easier for kids to pick out their own outfits by having a dedicated drawer for tops, one for bottoms, and one for socks and underwear, and ask your child to select one of each. This works best when you only keep clothes that fit and are appropriate to the weather, so whatever they choose is good to go.
4. Set clear expectations & reward behaviors
It helps if your child knows what they are on the hook for: what tasks, and in what order. You can use a visual chart like the one included in the download (pictured above), writing in a satisfying check mark when the task is complete.
From the download, which you can get here
For some kids, accruing points they can exchange for a reward can help motivate them to follow through. One approach here is to agree on a reward (like a cool lego set, or a fun family experience), and a number of points they need to accrue to get it. Each tick mark is a point: getting up on time, eating breakfast, getting dressed, brushing teeth, etc.
5. Timers are your friend
If you have a child that likes to drag their feet and linger, challenge them to complete a task within a designated time. You can use a visual timer like this one, or use a playlist with each song corresponding to a task (this has the bonus of helping you start the day in a good mood!). If you're using the rewards system, completing the task by the time the timer is done gets them the reward point!
---
The great lunch packing saga
Few things bring as much angst to parents as knowing a year of packing lunches is around the corner. The download companion to this post has some inspiration cheat sheets and meal planners. We've aggregated our favorite gear, some and some helpful resources!
Our Lunch Gear List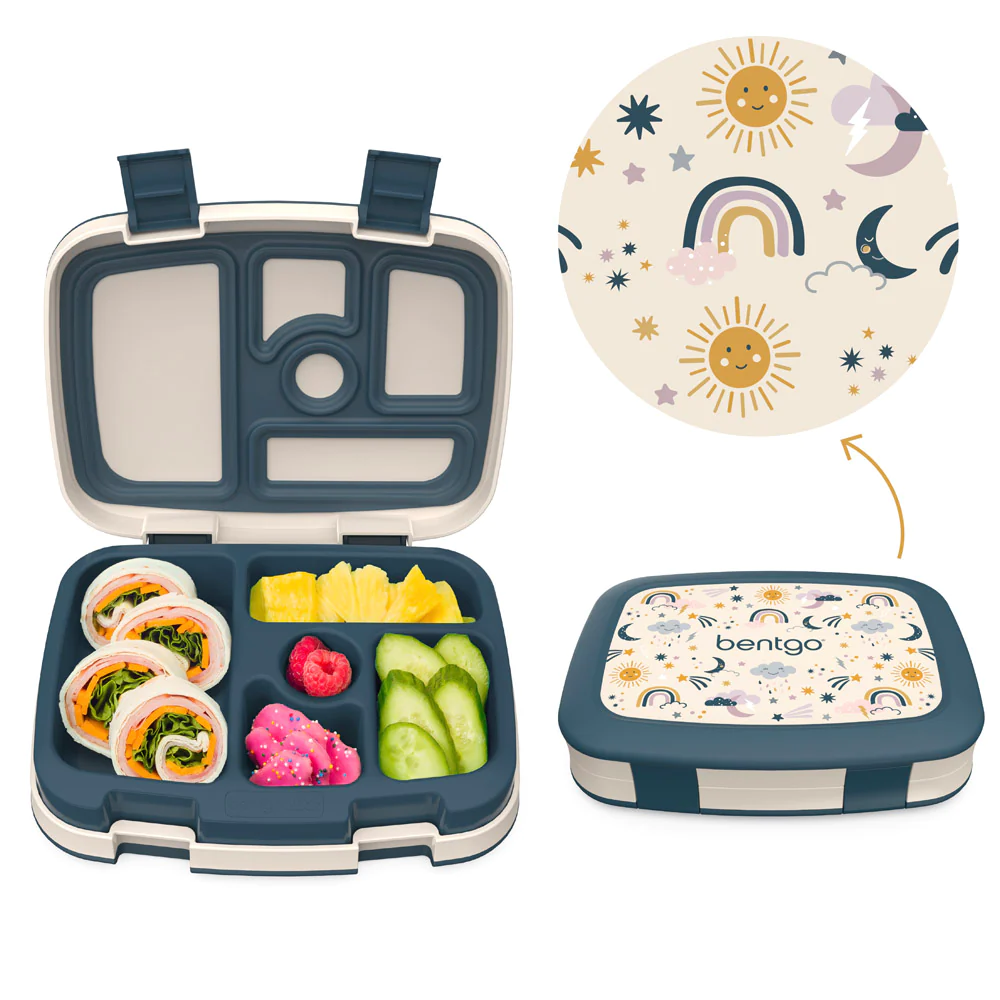 Image credit - Bentgo.com
Bentgo Bento Boxes - They come in many designs, and in a few different configurations. Our favorite is the five compartment with a spot that's perfect for dips, because ranch makes the veggies actually get eaten. This lunchbox has withheld daily lunches for a complete school year with no leaks. Buy on Bentgo.com | Amazon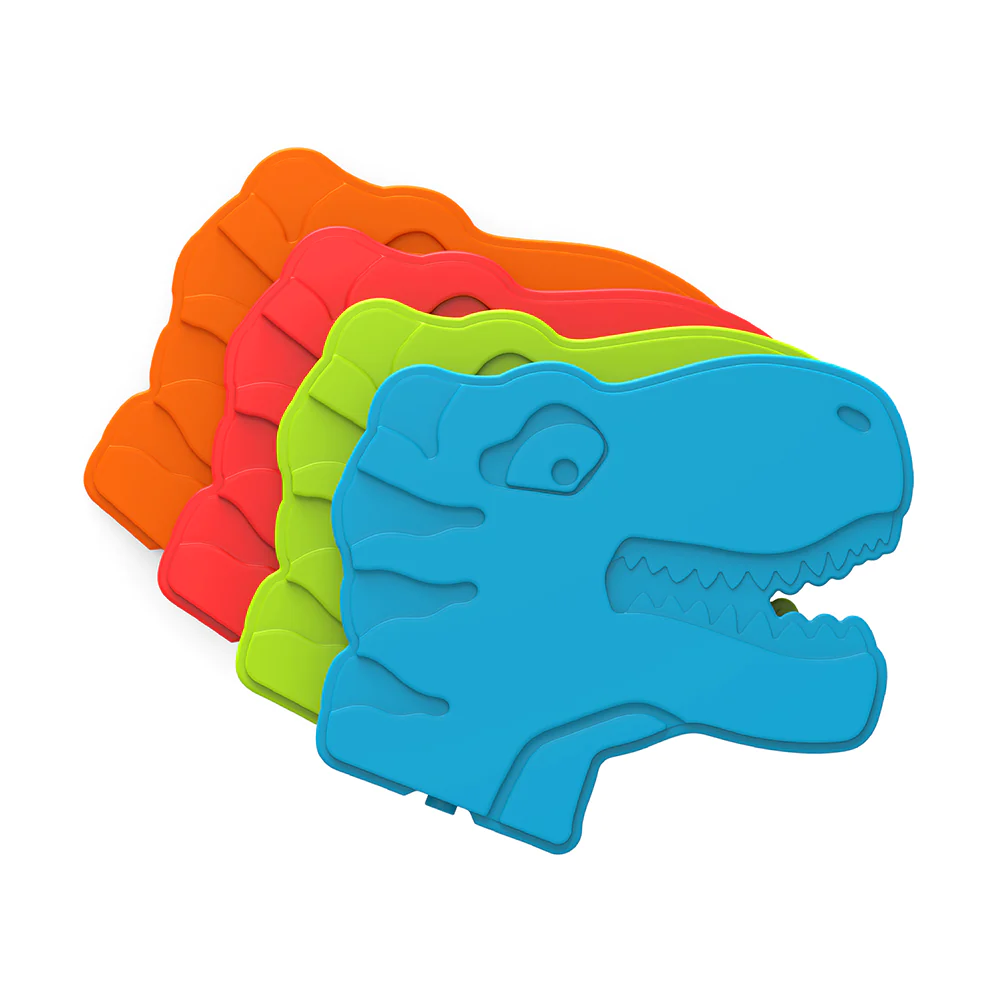 Image credit - Bentgo.com
Themed skinny ice packs - To keep the meal cold, these fun ice packs match the design of the lunchbox and keep the foot fresh. Buy on Bentgo.com | Amazon
Silicone Baking Cups - Sometimes you need a little extra food separation, and these reusable Baking Cups do the job, without the waste. Buy on Amazon
Thermos for hot food - We stick rice and beans, pasta, or dumplings in this Thermos Funtainer. Pro tip: Fill it with hot water before you pack the food in it to keep your meal warm for longer. Buy on Amazon
Ok that's great, but what do I put inside?
Glad you asked, we put some of our lunch time go-tos in the download. Almost every week, we reach for sandwiches (made from Dave's Killer Bread or mini-Croissants, with deli meat or egg salad), wraps (hummus and veggie, ham and cheese, or cream cheese and strawberries), a fruit plate with chocolate hummus and pita, or the fan favorite of DIY Lunchables with crackers, cheese, and pepperoni along with cut up veggies. (P.S., if you've never heard of chocolate hummus, it is a revelation! Make it yourself or buy it from the store)
From the download, which you can get here
Here are some outstanding resources with over 100 ideas for delicious and colorful Bento Box School lunches.
And as a bonus… here are some recommendations for what to pack as snacks:
If you're not sure what your kids will like, get them involved! Review the inspiration articles linked above, filled with beautiful, colorful photographs, and get them to pick what they'd be excited to try. From about age 6, kids should be able to help you make the lunches, and pick out their own snacks.
Above all, give yourself permission to do what works, and to take shortcuts. All of these ideas are meant to make it easier, not add complication. If your kid will gladly eat the same lunch every day, you don't need to do anything else. It can be discouraging to invest a lot of time and energy in putting together a beautiful balanced lunch only for it to come back untouched. Consider this your permission slip to do what works, and what is easiest for you.
---
Speaking of doing what works, when's the last time you took a break?
Our only Retreat of 2023 is coming up, September 21-24 just outside of Santa Fe, New Mexico. This ultra-exclusive 4 day, 3 night getaway was developed with overworked, overwhelmed women in mind. Through curated workshops, resilience boosting experiences, incredible food & beverage and a wonderful community, you'll be absolutely transformed. As of August, we have only two tents remaining! Check out this blog post to learn more, and if you're thinking about it, don't wait!
Never miss a post!
Get notified anytime we have something new.
We hate SPAM. We will never sell your information, for any reason.