Our 10 Favorite Reads of 2021
Jan 04, 2022
One of our favorite mindful activities is reading. Fiction, Nonfiction, Short Stories, Audiobooks, Kids books. We love it all!
We've compiled our 10 favorite reads from 2021. A few were published over the last year, many have been around for longer (but were new to us!).
---
Our Favorite Fiction Reads of 2021
Project Hail Mary - Andy Weir
Genre: Science Fiction

Goodreads rating: 4.53/5 (Recipient of Goodreads Choice Award for Science Fiction (2021))

Length: 476 Pages

Published: 2021

Plot synopsis:

"Ryland Grace is the sole survivor on a desperate, last-chance mission—and if he fails, humanity and the earth itself will perish. Except that right now, he doesn't know that. He can't even remember his own name, let alone the nature of his assignment or how to complete it. All he knows is that he's been asleep for a very, very long time. And he's just been awakened to find himself millions of miles from home, with nothing but two corpses for company." (Source:

Goodreads

)

Why we love it: An absorbing story, fast paced writing style, thrilling adventure, sprinkled with humor!
The Love Hypothesis - Ali Hazelwood
Genre: Romance

Goodreads rating: 4.44/5

Length: 352 Pages

Published: 2021

Plot synopsis: "

As a third-year Ph.D. candidate, Olive Smith doesn't believe in lasting romantic relationships--but her best friend does, and that's what got her into this situation. Convincing Anh that Olive is dating and well on her way to a happily ever after was always going to take more than hand-wavy Jedi mind tricks: Scientists require proof. So, like any self-respecting biologist, Olive panics and kisses the first man she sees. That man is none other than Adam Carlsen, a young hotshot professor--and well-known ass. Which is why Olive is positively floored when Stanford's reigning lab tyrant agrees to keep her charade a secret and be her fake boyfriend. But when a big science conference goes haywire, putting Olive's career on the Bunsen burner, Adam surprises her again with his unyielding support and even more unyielding... six-pack abs. Suddenly their little experiment feels dangerously close to combustion. And Olive discovers that the only thing more complicated than a hypothesis on love is putting her own heart under the microscope." (Source:

Goodreads

)

Why we love it: Women in STEM, likable characters, fun writing, some steam.
The ACOTAR series (A Court of Thorns and Roses) - Sarah J Maas
Genre: Fantasy/Young Adult/Romance

Goodreads rating: 4.18/5

Length: 419 Pages

Published: 2017

Plot synopsis:

"Feyre's survival rests upon her ability to hunt and kill – the forest where she lives is a cold, bleak place in the long winter months. So when she spots a deer in the forest being pursued by a wolf, she cannot resist fighting it for the flesh. But to do so, she must kill the predator and killing something so precious comes at a price … Dragged to a magical kingdom for the murder of a faerie, Feyre discovers that her captor, his face obscured by a jewelled mask, is hiding far more than his piercing green eyes would suggest. Feyre's presence at the court is closely guarded, and as she begins to learn why, her feelings for him turn from hostility to passion and the faerie lands become an even more dangerous place. Feyre must fight to break an ancient curse, or she will lose him forever." (Source:

Goodreads

)

Why we love it: Sarah J Maas creates a whole universe that captures the imagination. The book flies by, and luckily there are three more published in the series if you can't get enough, with another to come in February 2022.
House in the Cerulean Sea
Genre: Fantasy

Goodreads rating: 4.47/5

Length: 394 pages

Published: 2020

Plot synopsis:

"A magical island. A dangerous task. A burning secret. Linus Baker leads a quiet, solitary life. At forty, he lives in a tiny house with a devious cat and his old records. As a Case Worker at the Department in Charge Of Magical Youth, he spends his days overseeing the well-being of children in government-sanctioned orphanages. When Linus is unexpectedly summoned by Extremely Upper Management he's given a curious and highly classified assignment: travel to Marsyas Island Orphanage, where six dangerous children reside: a gnome, a sprite, a wyvern, an unidentifiable green blob, a were-Pomeranian, and the Antichrist. Linus must set aside his fears and determine whether or not they're likely to bring about the end of days. But the children aren't the only secret the island keeps. Their caretaker is the charming and enigmatic Arthur Parnassus, who will do anything to keep his wards safe. As Arthur and Linus grow closer, long-held secrets are exposed, and Linus must make a choice: destroy a home or watch the world burn. An enchanting story, masterfully told, The House in the Cerulean Sea is about the profound experience of discovering an unlikely family in an unexpected place—and realizing that family is yours."

(Source:

Goodreads

)

Why we love it: Representation, and learning to love despite of, and ultimately because of our differences. It's moving and beautiful, and a bright and uplifting read in a gray time.
---
Our Favorite Non Fiction Reads of 2021
Essentialism - Greg McKeown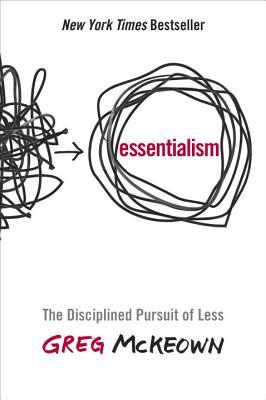 Genre: Self Help/Business/Productivity

Goodreads rating: 4.02/5

Length: 260 pages

Published: 2014

Plot synopsis: "

Have you ever found yourself stretched too thin? Do you simultaneously feel overworked and underutilized? Are you often busy but not productive? (…) If you answered yes to any of these, the way out is the Way of the Essentialis. tThe Way of the Essentialist isn't about getting more done in less time. It's about getting only the right things done. (...) By forcing us to apply a more selective criteria for what is Essential, the disciplined pursuit of less empowers us to reclaim control of our own choices about where to spend our precious time and energy – instead of giving others the implicit permission to choose for us.

" (Source:

Goodreads

)

Why we love it: Essentialism was a revolutionary read. The shift in mindset towards what's essential is a powerful tool to bust the overwhelm and overload that plague so many of us.
Set Boundaries, Find Peace - Nedra Glover Tawwab
Genre: Self Help/Psychology

Goodreads rating: 4.40/5

Length: 282 pages

Published: 2021

Plot synopsis: "

Healthy boundaries. We all know we should have them--in order to achieve work/life balance, cope with toxic people, and enjoy rewarding relationships with partners, friends, and family. But what do healthy boundaries really mean--and how can we successfully express our needs, say no, and be assertive without offending others? Licensed counselor, sought-after relationship expert, and one of the most influential therapists on Instagram Nedra Glover Tawwab demystifies this complex topic for today's world. In a relatable and inclusive tone, Set Boundaries, Find Peace presents simple-yet-powerful ways to establish healthy boundaries in all aspects of life. Rooted in the latest research and best practices used in cognitive behavioral therapy (CBT), these techniques help us identify and express our needs clearly and without apology--and unravel a root problem behind codependency, power struggles, anxiety, depression, burnout, and more.

" (Source:

Goodreads

)

Why we love it: This should be required reading for being an adult. Maybe boundaries come easily to some, but they seem to be a struggle for most. This clear and actionable book helps make them accessible to us all.
Think Again, Adam Grant
Genre: Psychology/Self Help

Goodreads rating: 4.25/5

Length: 307 pages

Published: 2021

Plot synopsis: "

Think Again is a book about the benefit of doubt, and about how we can get better at embracing the unknown and the joy of being wrong. Evidence has shown that creative geniuses are not attached to one identity, but constantly willing to rethink their stances and that leaders who admit they don't know something and seek critical feedback lead more productive and innovative teams. New evidence shows us that as a mindset and a skillset, rethinking can be taught and Grant explains how to develop the necessary qualities to do it. Section 1 explores why we struggle to think again and how we can learn to do it as individuals, arguing that 'grit' alone can actually be counterproductive. Section 2 discusses how we can help others think again through learning about 'argument literacy'. And the final section 3 looks at how schools, businesses and governments fall short in building cultures that encourage rethinking. In the end, learning to rethink may be the secret skill to give you the edge in a world changing faster than ever.

" (Source:

Goodreads

)

Why we love it: Recognizing that there's so much we don't know, and that we can get better at challenging our own thinking (and let's be honest, this is a skill we should all learn). The ability to rethink has never been more important than in today's polarized world, where what is true and what we (think we) know is constantly evolving and being challenged.
Seven Brief Lessons on Physics - Carlo Rovelli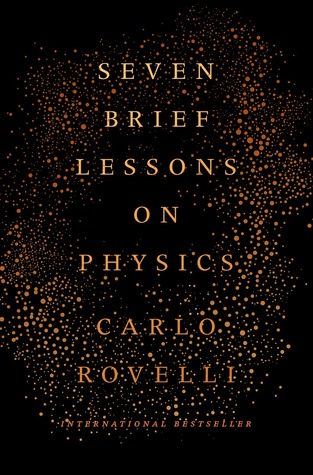 Genre: Science

Goodreads rating: 3.96/5

Length: 81 pages

Published: 2016

Plot synopsis: "

This is a book about the joy of discovery. A playful, entertaining, and mind-bending introduction to modern physics, it's already a major bestseller in Italy and the United Kingdom. Carlo Rovelli offers surprising—and surprisingly easy to grasp—explanations of general relativity, quantum mechanics, elementary particles, gravity, black holes, the complex architecture of the universe, and the role humans play in this weird and wonderful world. He takes us to the frontiers of our knowledge: to the most minute reaches of the fabric of space, back to the origins of the cosmos, and into the workings of our minds. "Here, on the edge of what we know, in contact with the ocean of the unknown, shines the mystery and the beauty of the world," Rovelli writes. "And it's breathtaking."

" (Source:

Goodreads

)

Why we love it: Physics is foundational knowledge, and pretty fascinating stuff. Carlo Rovelli does a beautiful job of clearly explaining some of the most important concepts of our time, and manages to do so in 81 short pages. Well worth a read!
---
Our Favorite Audiobook of 2021
Born a Crime - Trevor Noah
Genre: Memoir

Goodreads rating: 4.46/5

Length: 289 pages

Published: 2016

Plot synopsis: "The memoir of one man's coming-of-age, set during the twilight of apartheid and the tumultuous days of freedom that followed. (...)

Born a Crime is the story of a mischievous young boy who grows into a restless young man as he struggles to find himself in a world where he was never supposed to exist. It is also the story of that young man's relationship with his fearless, rebellious, and fervently religious mother—his teammate, a woman determined to save her son from the cycle of poverty, violence, and abuse that would ultimately threaten her own life."

" (Source:

Goodreads

)

Why we love it: Trevor Noah is a talented performer and comedian, and his narration is captivating and entertaining. This book is worth listening to, rather than reading!
---
Favorite Children's book of 2021
The Book with No Pictures - B.J. Novak
Genre: Children's

Goodreads rating: 4.27/5

Length: 48 pages

Published: 2014

Plot synopsis: "

A book with no pictures? What could be fun about that? (...) The Book With No Pictures inspires laughter every time it is opened, creating a warm and joyous experience to share--and introducing young children to the powerful idea that the written word can be an unending source of mischief and delight.

"

(Source:

Goodreads

)

Why we love it: This book delivers on its promise, creating hysterical laughter in kids and adults alike. It has no pictures, but the kids pick it almost every night.
---
Next up…
On our desk is Carol Dweck's Mindset. You might have read her 2016 HBS article, or one of the many that have cited her transformational work since, but the full book is well worth picking up.
What was your favorite read this year? What's on your TBR (to be read) in 2022? Let us know, and happy reading!
Never miss a post!
Get notified anytime we have something new.
We hate SPAM. We will never sell your information, for any reason.